So jumping onto the bandwagon of men telling us ladies what actually constitues rape is Brendan O'Neill.  In fairness I should point out that O'Neill has always been an ass, and so this is hardly out of keeping with his general asininity.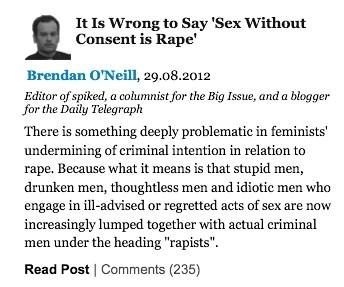 Legally, he's more wrong than a wrong person heading the wrong way to Wrongsville, because of course it's not feminists who define rape as "sex without consent" but the criminal justice system.
But O'Neill (and Galloway, and Team Assange, and Todd Akin and Paul Ryan and a whole load of other chaps) persist in this belief that there are "Rapists" who leave the house on an evening with a balaclava intending to rape someone and then there are "Mistaken Gentlemen" whereby a chap wants sex and a ladyperson doesn't and he goes ahead anyway.
Twitter is currently threatening to flush O'Neill's head down the loo, which is all very amusing, but why does this persist?  My theory is that it's got as much to do with class as with gender.  Those who are keenest for "criminals" to hang high are often the same people who think that their speeding ticket constitutes persecution.  Crime is something that only the working classes do; the middle class simply makes honest mistakes.  You see them at the magistrates court arguing 'special circumstances' over the 14 points on their licence; these are the people looking uncomfortable in suit and tie and blustering that it's not fair that they should be left waiting like a common criminal! when really this was all a big misunderstanding.  The law doesn't apply to them.  And if it does, then a friendly officer should point out the error of their ways and let them off, because they are not criminals, they just made an honest mistake.
We used to think this about domestic violence.  There were "wifebeaters" who wore vests and came back from the pub and knocked the missus about and were working class and probably Irish, and then there was persecution of people who were merely having a "domestic."  Some decades later, that distinction has gone, and domestic violence is less tolerated in anybody of any social class or race.
I hope it doesn't take thirty years for O'Neill and chums to catch up to the fact that "stupid men, drunken men, thoughtless men and idiotic men" are just as much rapists as this ephemeral class of "criminal men" if they have sex with someone who is not consenting or they do not reasonably believe is consenting. Because the law applies to them too.